Many people suffering from a substance use disorder also have other medical disorders, including psychiatric and other illnesses, and that intersection is our expertise. In the Division of Addiction Psychiatry, our faculty and trainees collaborate with multidisciplinary teams across the hospital system to provide comprehensive care for patients with a broad range of addiction and other medical issues.
We view addiction through psychological, physiological and social lenses and take a holistic approach to consultations and treatments for each patient.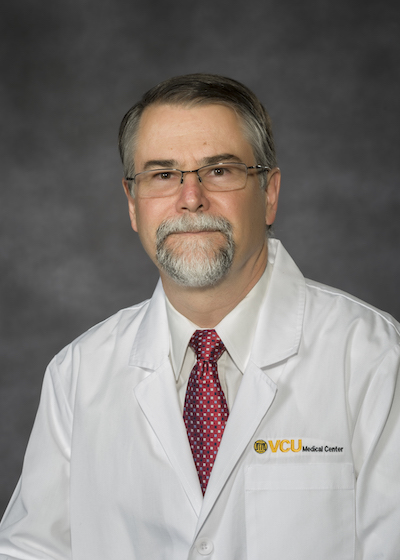 "The opioid epidemic is the leading cause of accidental death in Virginia, a major public health problem for the state. Partly related to the opioid epidemic, people are beginning to realize that addiction cuts across all demographics and socioeconomic classes. The stigma is still there, but I think we're making headway."
F. Gerard Moeller, M.D.
Division Chair
Research
Many of our faculty are heavily involved in research at the VCU Institute for Drug and Alcohol Studies, and we're proud to be at the forefront of innovative, groundbreaking clinical research in the following areas:
Medication development
Community engagement
Neurobiology of addictions
Adolescent brain cognitive development
International research on addictions
Learn more about our research
Residency
Residency
Trainees in our four-year residency program rotate through outpatient addiction clinics and the addiction consultation service over the course of their time at VCU. For residents interested in specializing in addictions, elective rotations and mentorship opportunities in preparation for a fellowship are available within the division.
Fellowship
Funded by the U.S. Health Resources and Services Administration, VCU's competitive addiction medicine fellowship accepts two applicants each year. Fellows gain hands-on clinical experience in ambulatory addiction and addiction consultation, plus additional opportunities for leadership, teaching and administrative training. The program also includes a three-month research rotation at the VCU Institute for Drug and Alcohol Studies.
Learn more about our fellowship
Advanced Practice Professionals
Tracy Davis, N.P.
Addiction Psychiatry
Tara Horne, N.P.
Addiction Psychiatry
Grace Screeney, N.P.
Addiction Psychiatry
Sara Farber, LCSW
Addiction Psychiatry
Kevin Hanger, LCSW
Addiction Psychiatry